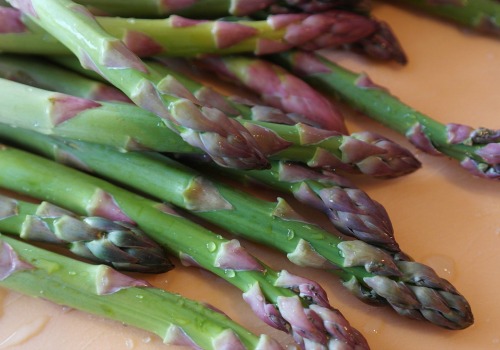 An abundance of fresh asparagus at local markets signals the arrival of spring! Asparagus is high in nutrients and fiber, but low in calories.
One cup (180g) of cooked asparagus contains only 40 calories and zero fat. Asparagus is a good source of fiber, potassium, folic acid, beta-carotene, vitamin C and vitamin K.
Wrap asparagus ends in a damp paper towel and store in refrigerator to maintain crispness. Consume fresh asparagus within 2 days of purchase for best quality. To prepare asparagus snap off and discard the hard dry end of each stalk. Lightly steam or stir fry in broth or oil until stalks turn bright green and are slightly tender. Don't overcook. Asparagus is especially satisfying when grilled or roasted with some combination of oil, lemon, garlic and herbs.
Try these asparagus recipes:
Roasted Garlic Asparagus
Asparagus & Lemon Risotto
Spring Asparagus Pizza
Asparagus Cashew Stir Fry
Asparagus Frittata
More Asparagus Recipes