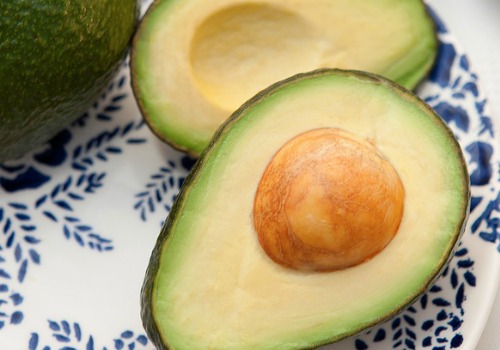 Although avocadoes are a seasonal, warm weather fruit, many grocery markets import avocadoes year round. In fact, January is the peak time for avocado demand in the United States due to the tradition of serving guacamole on Super Bowl Sunday.
Avocadoes are high in calories, but packed with healthy fats and nutrients. One medium sized avocado contains approximately 300 calories. Avocadoes are a good source of iron, copper, phosphorus, potassium, beta carotene, folic acid, vitamins B3, B6, K an E.
Because ripe avocadoes are fragile, the avocadoes in stores are often under-ripe. Fortunately, most avocadoes will ripen well after a few days at room temperature. Dark skin and soft, but not mushy, flesh indicates that a avocado is ripe and ready to cut, prepare and eat.
Avocado flesh browns quickly so don't cut or mash ahead of time. When making guacamole the addition of lemon juice and storage in a container with minimal air space will reduce browning.
Avocadoes make a satisfying addition to salads and sandwiches and are an excellent way to add a creamy texture to non-dairy smoothies. If you're concerned about the calories in your favorite guacamole, mix it half and half with non fat Greek-style yogurt.
Try these avocado recipes:
Perfect Guacamole
Orange and Avocado Salad
Avocado Lettuce and Tomato Sandwich
Southwestern Corn & Avocado Salad
Avocado Toast
Hummus Cucumber Avocado Wrap