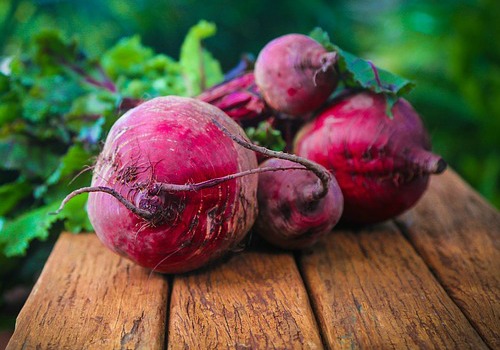 Beets, or more accurately beetroots, are nutritious, low calorie root vegetables that stores well and can be enjoyed raw, cooked or pickled. Beets are delicious as a side dish, soup or salad.
The most common variety available in grocery markets is deep reddish purple in color, but yellow and orange beets may also be available. Beet greens can be cleaned and prepared similar to chard. Some markets sell fresh peeled and cooked beets which eliminates the rather messy job of preparing beets.
One cup of cooked beetroot contains approximately 50 calories. Beet are a good source of calcium, magnesium, iron, phosphorus, potassium, manganese, folic acid and vitamin C.
Try these beet recipes:
Pickled Beets
Roasted Beet Tart
Beets and Herbs Salad
Dr. Shivago Borscht
Roasted Beets
Raw Beet Salad
Festive Beet Citrus Salad
Beetroot Carpaccio
Roasted Beet Crostini